In terms of risk management, many organizations, of all industries and sizes, have been slow to convert manual process and information into a seamless digital format. Although manual processes are often error-prone and tedious, decision-makers often don't want to deal with the cost, disruption, or hiring and training needs associated with migrating to a new system. In fact, global market researcher Forrester found that only 15% of companies were considered "digital savvy" prior to 2021.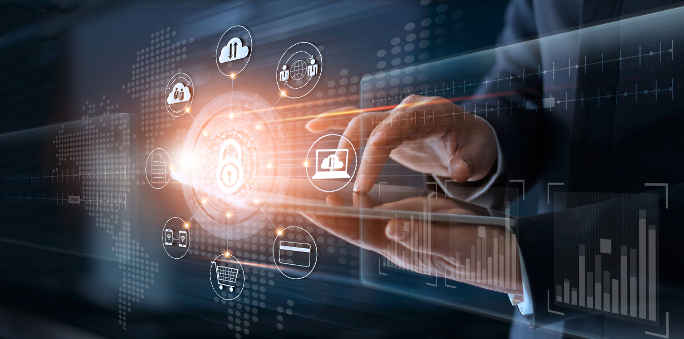 In the past several years, the COVID-19 pandemic has imposed dramatic changes in the way clients, partners, and employees interact with organizations. These changes have motivated industry leaders to reassess their priorities – especially in the way they address increased cyber risks created by these changes. As a result, new technology initiatives to address cyber risks have received increased focus and will likely continue to be a primary focus for years to come.
Industry analysts predict dramatically increased corporate investments in security, risk, network, cloud, and mobility solutions. To Illustrate the impact these changes will have on cybersecurity and cyber risk management, leading cyber security authority Cybersecurity Ventures reports, "The challenges of 2021 are pervasive, with 69 percent of CEOs reporting they have been accelerating new digital business models and revenue streams over the past year. Consequently, 52 percent said they would prioritize data security measures this year (2022).
The imperative to protect mission-critical digital investments will help drive double-digital annual growth in cybersecurity spend for years to come, with Cybersecurity Ventures predicting that this year's $262.4 billion in expenditures will grow to $458.9 billion in 2025."
But the predicted growth in cybers risk investments isn't just because of the increased cyber risk exposure facing every organization, it's also due to new advances and opportunities to improve risk management capabilities.
Why Digitization and Integration?
Today's dynamic world is full of opportunity, risk, business transformations, and increasing regulatory pressure—and to keep up, organizations must strengthen their risk management and governance & regulatory compliance (GRC) agility. Despite investments in GRC tools, risk and compliance processes remain largely manual and siloed, and risk data remains fragmented.
The evolving business environment makes it clear that disjointed risk management practices are no longer sustainable. Digitization and integration of siloed cyber risk systems and processes enables teams to have real time risk awareness that enables informed decision making and optimal mitigation response. The right digital risk management solution will provide:
Clear visibility of current threats
Remediation suggestions
Shortened response times
Digitized self-reporting
Automated notifications for compliance standards
The result of these solution capabilities includes less pressure on your compliance managers to perform repetitive site checks, increased strategic risk awareness, improved workplace productivity for your entire team, and optimal organization-wide compliance.
Integration Across 5 Dimensions
Today, there is a clear opportunity for risk managers to contribute to business agility and quality risk decision-making. A successful, digitized risk management function orchestrates integration across the following five dimensions.
Integrated workflow across the lines of defense (LOD)
Most analytics efforts related to controls are executed as part of assurance activities. As a result, the business is confronted with insights from a compliance or internal audit and is then forced to find reasons for what happened months ago.
An integrated workflow equips the business (LOD-1) to effectively own its risks and controls, increase transparency and efficiency for the risk and compliance function (LOD-2), and enable continuous assurance for internal and external audits (LOD-3/4). By providing the business with process analytics in the form of continuous control monitoring (CCM), digitization enables more effective mitigation of risks in a timely fashion.


Integration of strategic, tactical, and operational risks
In most organizations, there is a significant disconnect between the management of operational and enterprise-level strategic risks. The enterprise risk management cycle is often an isolated process, largely detached from relevant operational issues and decisions. Risk appetite statements, if articulated at all, do not get effectively deployed in the day-to-day operations, turning these appetite statements into paper exercises.

Consistently managing risks across the enterprise can provide critical insights for decision making and ensure the optimal application of resources. To integrate operational, tactical, and strategic (enterprise) risks, a consistent risk hierarchy is required, as well as a mathematically correct aggregation and drill-down of these risks, based on tangible, end-to-end risk scenarios.

Risks should be expressed in terms of the type of business impact, and potential business losses should be quantified to provide a solid foundation for a comparison of enterprise risks from different risk domains. Complex, technical risk scenarios should be modeled because manual or spreadsheet-based assessments cannot appropriately represent the critical components of the risk scenarios that determine the potential losses.


Integrated insights from backward-looking, present, and forward-looking data
Making decisions based only on historical data can be misleading. Especially in the current disruptive business environment, it is costly to misinterpret emerging risks.

Understanding company-relevant systemic risk correlations can improve strategic planning in dynamic operating environments. Risks that seem relatively unimportant on their own can have major repercussions when risk correlations are considered. To derive these correlations, you need either industry-specific data or insight from experts who have followed calibration training.

If risk data along the timeline is systematically captured and properly articulated, management can reflect on whether choices made in the past are future-proof—and make better informed risk decisions accordingly.


Integrated in-control and compliance domains
Digitization enables you to break through the functional silos and integrate control frameworks across the enterprise. Many companies still approach in-control areas and compliance domains in an isolated manner. For example, when it comes to the GDPR European privacy regulation, organizations often create separate controls and compliance activities. Therefore, they deal with duplication of efforts, misalignment, and slow progress.

Companies can benefit from having a single center of excellence (CoE) risk and control function (LOD-2) for the entire organization, covering all in-control and compliance domains, and having a strong strategic and operational relationship with the legal function. This provides oversight for controls across the risk and compliance domains, captured in a single integrated control framework that streamlines and orchestrates mitigating and testing efforts.


Integrated risk and control indicators and actions
Making quality and timely decisions based on operationalized risk appetite is crucial for organizational success. Many indicators are monitored daily in specific parts of the organization, and isolated decisions are made to address issues. Often, these indicators are not clearly linked to risks—and actions taken are unknown to the risk owners. At the same time, through external and internal assessments and audits, findings are produced, and actions defined to address them. Prioritization of actions is mainly based on who found the issue.

Articulating an integrated view of process performance, risk and control indicators, assessment and audit findings, and the associated improvement actions will not only enrich the quality of management decisions around the adequacy of indicator thresholds, pain points, short cuts, and deviations, but will also enable an end-to-end view of process issues and allow management to strike the right balance between process agility, controls, and early warnings to be embedded in the day-to-day operations.
Keys to Success in Risk Management Digitization
It is not sufficient to just provide a new technology platform to address your organization's challenges. Managing and mitigating your risk exposure effectively requires a technology solution that offers certain distinct elements.
Risk Prioritization
The most valuable solution will offer you the ability to calculate your risk appetite for each foreseeable risk and review the impacts of each risk. Without a holistic view of every potential risk, you cannot prioritize your mitigation plans accordingly.
Real-Time Risk Reporting
Your solution should integrate with real-time data feeds, which might include information such as system outage notices, credit risk reports, and other industry- and risk-specific data points.
Automated Risk Assessments
A digital risk management system should provide ongoing automated risk assessments for your organization's identified risks, based on monitored risk indicators. For instance, one key risk indicator might be the percentage of scheduled maintenance activities, like software patching, that did not take place—if this number goes above a set threshold, that could be considered an operational risk, and the system will send out an early warning signal to the relevant managers.
LOD Integration
In many organizations, the three lines of defense operate relatively independently, which may create redundancies or lead to miscommunication between lines. An integrated digital risk management solution will bring the LOD functions together into a unified team, ensuring that all three lines have access to the same data, and that all metrics are evaluated based on the same scoring criteria.

Intuitive Platform
A digital risk management solution should be intuitive for all users across all three LOD functions, not just specialized technical staff. Your team members should be able to easily set triggers, respond to alerts, and gather relevant analytics data for further evaluation. This will help you to enable a better collaboration environment and give your team the tools to lead with a refined strategy.
TruOps: An Integrated Risk Management Solution
A digital risk management solution is an integrated platform that works seamlessly for distributed teams, enabling them to access customized views based on their unique needs. It also provides a comprehensive dashboard that showcases real-time compliance status, risk levels, and actions required.
Error-prone manual processes that expose organizations to unnecessary risks and reduce cyber resiliency will soon be a thing of the past. To remain effective in today's environment of heightened cyber risk, cyber risk management teams need to automate and integrate risk management processes. With a consolidated, real-time awareness and insight of organization-wide cyber risk, risk teams are empowered to mitigate risk more effectively and respond and remediate threats faster.
In an era of ever-expanding cybersecurity threats and changing regulatory requirements. deploying a best-in-class risk management solution is critical for ensuring the sustainability and growth of your organization. The TruOps Integrated Risk Management platform provides you with an integrated, automated, intuitive platform that will drive more secure, effective decisions.
See the TruOps difference… visit www.truops.com and set up a TruOps demonstration today.
©2022 TruOps, LLC. All rights reserved.
Join The GBI Impact Community
Sign up to make an impact and hear about our upcoming events
By registering anywhere on the site, you agree with our terms and privacy policy